Adjustment of Pennel & Flipo's organization for the next few days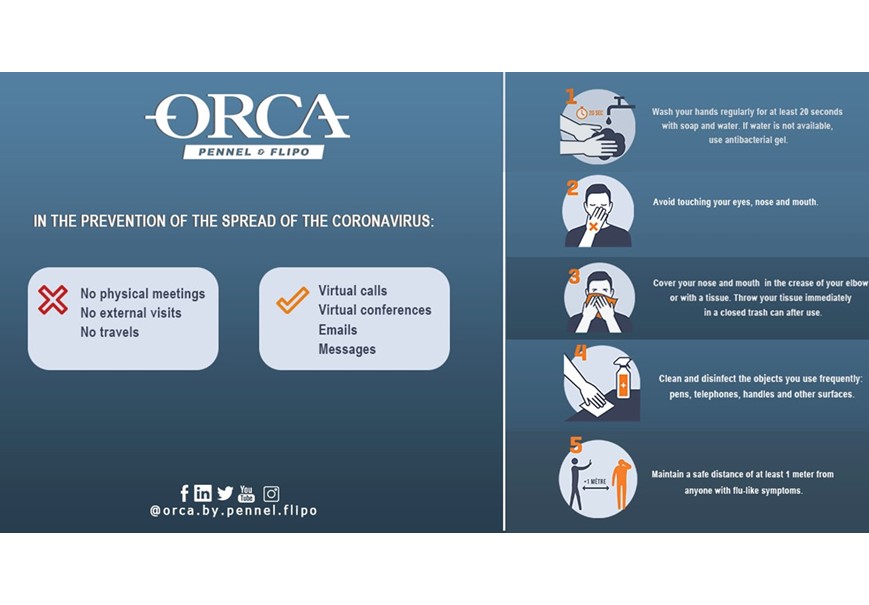 03 - 2020
In the prevention of the spread of the Coronavirus
Pennel & Flipo is adjusting its organization to safeguard the health and safety of its employees, to comply with recommendations from local authorities and to ensure all dispatches to its customers.
For the time being, our operations are working normally.
Whilst we are continuously monitoring our priorities and our dispatches, It is of utmost importance to receive updated and reliable forecasts from our customers.
Your usual contact at Pennel & Flipo remains at your disposal for any further information or comment..
Find us everywhere
Orca Pennel & Flipo offices
ORCA PENNEL & FLIPO EUROPE
Boulevard de l'Eurozone 102
7700 Mouscron, Belgium
Phone: +32 56 39 21 00
ORCA PENNEL & FLIPO ITALIA
Phone: +32 56 39 21 22
ORCA PENNEL & FLIPO RUSSIA
196105 Saint-Petersbourg
Moskovskiy prospekt 158-B, Office 84
Phone: +7 812 242 56 01
ORCA PENNEL & FLIPO ASIA
Unit 801B, Qingke Mansion, No. 138, Fenyang Road
Xu hui District, 200031 Shanghai
Phone: +86 (21) 54 04 53 59
ORCA PENNEL & FLIPO NORTH AMERICA
PO Box 1695
Mt Pleasant SC 29465, USA
Phone: +1 (843) 881 9026
see other entities