It's Almost Time To Winterize Your Boat!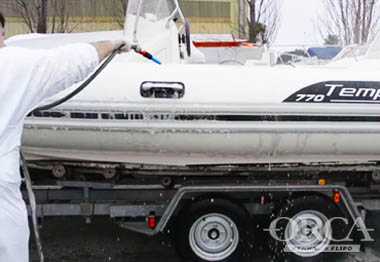 09 - 2020
FIND OUT ABOUT HOW TO ENJOY YOUR RIB LONGER
It's almost time to winterize your boat! We prepared this special edition to give you our 3 tips for cleaning your tube before storing your RIB
Step 1 - New Magic :
New Magic cleaning will help you to clean and remove surface dirt.
Caution: New Magic is recommended for regular light-cleaning. If used more than on a regular base, we recommend diluting with water
1 - Spray New Magic onto a wet tube.
2 - Clean and scrub with a non abrasive sponge.
3 - Rinse with clean water.
Step 2 - Shmuffex :
Shmuffex will help you remove spots on the various layers of the fabric.
Caution: Apply Shmuffex immediately after completing step1. Protect elements surrounding the tube.
Wear gloves and protective clothing when handling this product (contains chlorine).
Check the expiration date of the product before using it (risk of loss of efficiency).
Shmuffex will also help you to disinfect your tube.
Shmuffex is a chlorine based solution which is used as a germicide. That makes Shmuffex excellent for disinfecting your tubes. And because of its gel-like texture, its properties remain longer on your tubes even after the rinsing.
1 - Spray Shmuffex generously.
Then use a non-abrasive sponge to spread the product over the whole surface of the tube.
2 - Let it set for 1 hour and make sure it doesn't dry out.
3 - Rinse with clean water.
Repeat the process if necessary.
Step 3 - Gumemp 100 :
Final step, Gumemp 100 will protect the fabric against salt, atmospheric agent, and UV by creating a surface film on the tube.
Caution: Gumemp 100 must be used after regular cleaning (Step1) or deep cleaning (Step 1 + Step 2).
It is strongly recommended to perform a deep cleaning of the tube before placing your inflatable boat into long-term storage.
This product must be applied on a perfectly clean and dry surface.
1 - Spray Gumemp 100 on the tube surface and spread evenly with a clean cloth.
Wait for the product to completely dry and then polish it with a clean dry cloth.
Find more about cleaning here
Find us everywhere
Orca Pennel & Flipo offices
ORCA PENNEL & FLIPO EUROPE
Boulevard de l'Eurozone 102
7700 Mouscron, Belgium
Phone: +32 56 39 21 00
ORCA PENNEL & FLIPO ITALIA
Phone: +32 56 39 21 22
ORCA PENNEL & FLIPO RUSSIA
196105 Saint-Petersbourg
Moskovskiy prospekt 158-B, Office 84
Phone: +7 812 242 56 01
ORCA PENNEL & FLIPO ASIA
Unit 801B, Qingke Mansion, No. 138, Fenyang Road
Xu hui District, 200031 Shanghai
Phone: +86 (21) 54 04 53 59
ORCA PENNEL & FLIPO NORTH AMERICA
PO Box 1695
Mt Pleasant SC 29465, USA
Phone: +1 (843) 881 9026
see other entities