Come to meet us at Techtextil Frankfurt in Germany from May 14 to 17 – Hall 3.0 Stand F36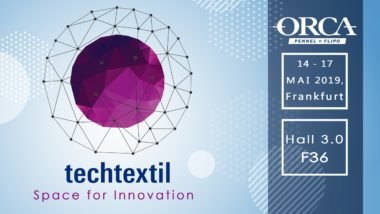 03 - 2019
Techtextil is more than a trade fair,  it's a tailor-made business solution for the entire industry. Bringing together 33,670 visitors from 104 countries and 1,477 exhibitors from 55 countries. Each year, the event meet a big success.
Orca® by Pennel & Flipo will be, once again, part of this leading international textile trade fair. Together with our sister company FaitPlast, we invite you to come to see our latest innovations and get answer to all your questions regarding ORCA® Engineered Fabrics.
We look forward to seeing you there!
Hall 3.0 Stand F36

Find us everywhere
Orca Pennel & Flipo offices
ORCA PENNEL & FLIPO EUROPE
Boulevard de l'Eurozone 102
7700 Mouscron, Belgium
Phone: +32 56 39 21 00
ORCA PENNEL & FLIPO ITALIA
Phone: +32 56 39 21 22
ORCA PENNEL & FLIPO RUSSIA
196105 Saint-Petersbourg
Moskovskiy prospekt 158-B, Office 84
Phone: +7 812 242 56 01
ORCA PENNEL & FLIPO ASIA
Unit 801B, Qingke Mansion, No. 138, Fenyang Road
Xu hui District, 200031 Shanghai
Phone: +86 (21) 54 04 53 59
ORCA PENNEL & FLIPO NORTH AMERICA
PO Box 1695
Mt Pleasant SC 29465, USA
Phone: +1 (843) 881 9026
see other entities