Major acquisition of Italian company FAIT PLAST for PENNEL & FLIPO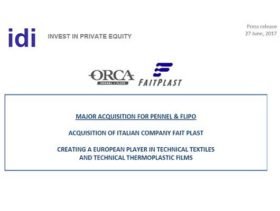 07 - 2017
A EUROPEAN PLAYER IN TECHNICAL TEXTILES AND TECHNICAL THERMOPLASTIC FILMS
Pennel & Flipo is pleased to announce a strategic and structuring external growth with its major acquisition of FAIT PLAST, European leading manufacturer of technical thermoplastic films.
This acquisition strengthens Pennel & flipo as an European leader able to address niche markets worldwide.
Click here for the official Press report.
Cliquer ici pour le communiqué de Presse en français.
Find us everywhere
Orca Pennel & Flipo offices
ORCA PENNEL & FLIPO EUROPE
Boulevard de l'Eurozone 102
7700 Mouscron, Belgium
Phone: +32 56 39 21 00
ORCA PENNEL & FLIPO ITALIA
Phone: +32 56 39 21 22
ORCA PENNEL & FLIPO RUSSIA
196105 Saint-Petersbourg
Moskovskiy prospekt 158-B, Office 84
Phone: +7 812 242 56 01
ORCA PENNEL & FLIPO ASIA
Unit 801B, Qingke Mansion, No. 138, Fenyang Road
Xu hui District, 200031 Shanghai
Phone: +86 (21) 54 04 53 59
ORCA PENNEL & FLIPO NORTH AMERICA
PO Box 1695
Mt Pleasant SC 29465, USA
Phone: +1 (843) 881 9026
see other entities