P&F team at Nuova Jolly Marine for a tube manufacturing workshop!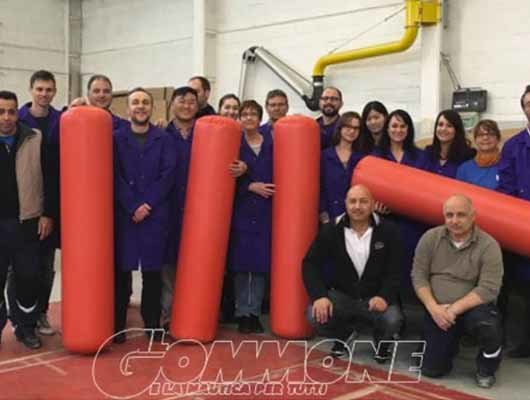 03 - 2016
« Workshop at Nuova Jolly Marine with Pennel & Flipo. How is made a tube? »
Took place on 2016.03.22nd in Bussero (Milan), at the headquarters of Nuova Jolly Marine, a special workshop with a delegation of Pennel & Flipo, worldwide leading brand in the production of rubber fabric for the manufacturing of inflatable boats.
A group of 16 people consiting of technicians, sales teams and directors, who came directly from the headquarters of Mouscron (Belgium), who managed to build with their own hands - followed by specialists of the site - some demo tubes with the Orca® fabric  in hypalon-neoprene they manufacture and sell themselves.
A somewhat unusual experience, which however has enabled them to touch with their own hands each necessary step to realize a product indeed artisanal but with a rich tecnical content, area in which Italian manufacturers have always been the absolute reference on worlwide scale ».
The teams of P&F deeply thank Nuova Jolly for their great welcome, a rich human and technical experience, and invite you to follow this link here below on Il Gommone website:
www.ilgommone.net/workshop-nuova-jolly-marine-pennel-flipo-si-un-tubolare/
Find us everywhere
Orca Pennel & Flipo offices
ORCA PENNEL & FLIPO EUROPE
Boulevard de l'Eurozone 102
7700 Mouscron, Belgium
Phone: +32 56 39 21 00
ORCA PENNEL & FLIPO ITALIA
Phone: +32 56 39 21 22
ORCA PENNEL & FLIPO RUSSIA
196105 Saint-Petersbourg
Moskovskiy prospekt 158-B, Office 84
Phone: +7 812 242 56 01
ORCA PENNEL & FLIPO ASIA
Unit 801B, Qingke Mansion, No. 138, Fenyang Road
Xu hui District, 200031 Shanghai
Phone: +86 (21) 54 04 53 59
ORCA PENNEL & FLIPO NORTH AMERICA
PO Box 1695
Mt Pleasant SC 29465, USA
Phone: +1 (843) 881 9026
see other entities