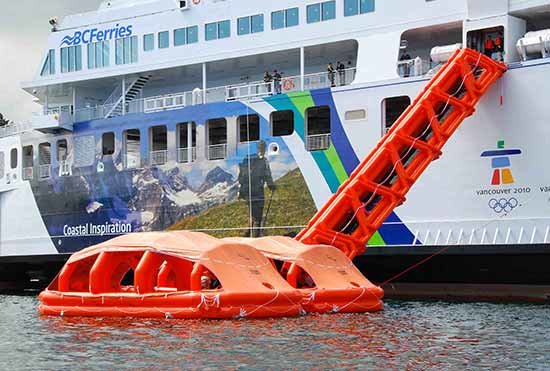 Check our range of TPU & CSM fabrics for Safety applications.
Our range of single side and double side TPU fabrics for Life Rafts are SOLAS certified, as well as single side CSM for Canopy.
ORCA® SAFETY fabrics for have been designed to show the best resistances to:
_ air & water tightness, 
_ low temperatures,
_ UV, 
_ mechanical properties, 
_ abrasion, 
_ with the lowest weight. 
ORCA® TPU fabrics are easily weldable (hot air, high frequency...) or glued. 
ORCA® 290 153
Base fabric : Polyamide High Tenacity 940 dtex
Coating : Polyurethane (TPU) single side
Tensile strength : ≥ 275 daN/5cm (W)
Tear resistance : ≥ 150 daN
Surfacic mass : 460 (±10%) g/m²
ORCA® 290 162
Base fabric : Polyamide High Tenacity 940 dtex
Coating : Polyurethane (TPU) single side
Tensile strength : ≥ 275 daN/5cm (W)
Tear resistance : ≥ 150 daN
Surfacic mass : 460 (±10%) g/m²
ORCA® Tech 210 Textane
Base fabric : Polyamide High Tenacity 235 dtex
Coating : Poluyrethane (TPU) single side
Tensile strength : ≥ 93 daN/5cm (W)
Surfacic mass : 265 (±30) g/m²
ORCA® 289 164
Base fabric : Polyamide High Tenacity 940 dtex
Coating : Polyurethane (TPU) double side
Tensile strength : ≥ 275 daN/5cm (W)
Tear resistance : ≥ 130 daN (W)
Surfacic mass : 710 (±50) g/m²
ORCA® 289 165
Base fabric : Polyamide High Tenacity 940 dtex
Coating : Polyurethane (TPU) double side
Tensile strength : ≥ 275 daN/5cm (W)
Tear resistance : ≥ 130 daN (W)
Surfacic mass : 745 (±85) g/m²
ORCA® Tech A/2B 210 Textane
Base fabric : Polyamide High Tenacity 235 dtex
Coating : Poluyrethane (TPU) double side
Tensile strength : ≥ 110 daN/5cm (W)
Surfacic mass : 330 (±30) g/m²
ORCA® 255183 CANOPY
Base fabric : Polyamide High Tenacity 235 dtex
Coating : CSM polymer single side
Tensile strength : ≥ 110 daN/5cm (W)
Tear resistance : ≥ 50 daN
Surfacic mass : 179 (±14) g/m²
Orca Pennel & Flipo is certified
Quality, a shared philosophy